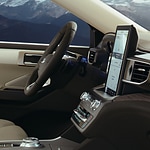 To start things off on a high note, the Ford Explorer is a quintessential SUV that's been around for decades. This vehicle has stunning good looks for its exterior, and its interior is modern and sophisticated. Consumers have multiple trim options, including the XLT, Platinum, Limited, and Standard. Check out some of the performance features by reading below.
The Ford Explorer offers an adventurous drive on a variety of surfaces. One of the better performance features here is the Intelligent four-wheel-drive system. Power is delivered to all four wheels when needed in order to get you out of sketchy situations. The rear-wheel-drive system will give you a sportier feel when behind the wheel. The engine's power will be sent to the rear wheels and the rear wheels only. Roll Stability Control is another beneficial feature.
Our reps want all serious buyers to swing by our showroom for an up-close and personal tour of the Ford Explorer.